CPS 3200
Year Released:
Available?:

No

Stock Capacity:

8L of water

Family: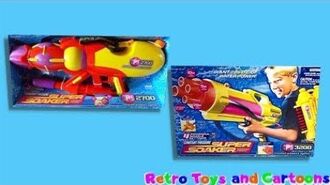 The CPS 3200 is a 2000 CPS Super Soaker that holds a very large water capacity of 8L. It is no longer available for purchase since its home line has been discontinued. It is classified as an elastic-pressure soaker.
It is essentially a re-release of the earlier CPS 3000, but with a new backpack reservoir that is made of plastic. Of course, all of the other features of the soaker remained the same, straight down to the nozzle settings. The concept remained the same; A powerful soaker connected to a high-capacity backpack reservoir unit. But, the tube has an adapter that can be connected to a Q.F.D. for faster refills of the backpack unit. However, the blaster components between the CPS 3200 and 3000 are incompatible with each other.
Community content is available under
CC-BY-SA
unless otherwise noted.