Modulus ECS-10
Year Released:
Available?:

Yes

Stock Capacity:

10 Elite Darts

Average Retail Price(s):

49.99 USD

Family:
Additional Pages:
The Modulus ECS-10 is a 2015 Nerf N-Strike Modulus blaster that holds 10 Elite Darts. It is known for its customizability, where attachments for the blaster can be mixed and matches for a near-endless number of combinations. The blaster comes packaged with a number of accessories, even more than those which come with a Recon CS-6, them being a detachable stock, a barrel extension, a 10-dart Banana Clip, 10 Elite Darts, a precision scope, a folding foregrip and instructions. More accessories can be purchased for the Modulus in upgrade kits, with things like a distance scope and a stock that can shoot darts. It costs 49.99 USD.
Description
Edit
The Modulus is a modular blaster, with over 40 customization options. It has a white paintjob, with five tactical rails. With its dual-rail barrel extension on, this is bumped up to 7, making it have the most tactical rails out of any blaster. The blaster is powered by 4 "AA"-sized batteries, very much like most other dart-firing flywheel powered blasters of recent years.
Internals
Edit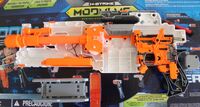 As the Modulus is essentially just a reshelled
Stryfe
, it has all the same internals, with the exception of a lock that prevented you from pulling the trigger while no dart was present.
Position in Theme
Edit
The Modulus is essentially the assault rifle of the theme.
Blaster Co-relation
Edit
The Modulus does not really have anything for it to relate to; the closest blaster it can relate to is probably the Rapidstrike CS-18, in spite of the latter's full-auto fire.
How to Fire
Edit
Step 1 - Load the batteries into the blaster.
Step 2 - Load 12 darts into the banana clip.
Step 3 - Load the banana clip into the blaster.
Step 4 - Pull and hold the acceleration trigger to rev up the flywheels.
Step 5 - Pull the trigger to fire a dart.

It is the second non-fully automatic blaster that is labelled ECS.
It is also the first release in the N-Strike Modulus series.
See Also
Edit
Community content is available under
CC-BY-SA
unless otherwise noted.