Ricochet
Year Released:
Available?:

No

Stock Capacity:

1 XLR disc

Average Retail Price(s):

$7.99

Family:
Additional Pages:
The Ricochet is a 2014 Nerf Zombie Strike Vortex blaster. It holds 1 XLR disc. It is the successor of the Proton. The blaster is colored in the orange and green paint scheme of Zombie Strike blasters. It retailed for $7.99.
Description
Edit
The Ricochet is a small, pocket-sized blaster. It has the Zombie Strike logo embossed onto it and a black trigger. Something that many people may not realize is that the name is self-explanatory, as it is the only Vortex blaster to not spin the disc as it fires. This means that you can Ricochet the disc both ways, hence ricochet.
Internals
Edit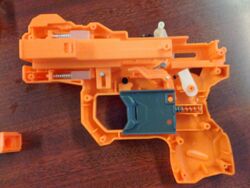 The Ricochet has very few internals to speak of. It has a
firing trigger
,
catch
,
catch spring
,
spring
,
plunger
and disc chamber.
Position in Theme
Edit
The Ricochet acts as the quick-draw blaster in the line. Due to it being so small, it can also be adapted to a stealth role, as it is able to be concealed in a pocket and taken out quickly.
Blaster Co-relation
Edit
The Ricochet seems to be the smaller brother of the Ripshot as it resembles the blaster and both blasters load from the muzzle.
The main fault of the Ricochet is its low capacity. You have to reload the blaster every time you fire it. Another main problem with the blaster is its range; it only hits around thirty feet.
How to fire
Edit
Step 1 - Put an XLR disc in the barrel and push it all the way in.
Step 2 - Pull the slide back. Note that it will not go back in place.
Step 3 - Pull the trigger to fire.
Step 4 - Push back the slide.

It is the smallest Vortex blaster.
Community content is available under
CC-BY-SA
unless otherwise noted.