Rotofury
Year Released:
Available?:

Yes

Stock Capacity:
Average Retail Price(s):

34.99 USD

Family:
Plunger Type:
Additional Pages:
The Rotofury (formerly known as the Berzerker) is a 2015 Nerf N-Strike Elite Mega blaster that holds 10 Elite Mega Darts. It is a big blaster that is somewhat similar in appearance to a Doominator, minus the four turrets. The Rotofury was leaked along with a few other blasters like the Cycloneshock and Sharpfire on September 1, 2014, where it was initially known as the Berzerker.
Description
Edit
The Rotofury is a giant blaster with a huge 10 dart turret. The blaster does not have a trigger lock, allowing it to slam fire. It has a pump grip which can be slid back and forth to prime the blaster. Unlike most other revolver-style blasters, the turret of the blaster does not rotate on firing the blaster; it rotates on the prime, similar to Buzz Bee Tek blasters.
Internals
Edit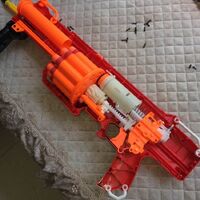 The Rotofury has simple internals, where it has a giant
direct plunger
, and a turret rotation mechanism.
Position in Theme
Edit
The Rotofury could be used as an assault weapon, due to its slam fire capabilities and high capacity for a mega dart weapon.
Blaster Co-relation
Edit
The Rotofury doesn't exactly have anything to compare to; the closest blaster it is related to is the Doominator, despite both firing different types of ammunition.
Like all other blasters, the Rotofury has faults. The main problem is that it lacks a stock attachment point.
How to Fire
Edit
Step 1 - Load 10 darts into the turret.
Step 2 - Pull the pump grip back and push forward.
Step 3 - Pull the trigger to fire a dart or hold the trigger and rapidly slide the pump grip back and forth to fire a volley of darts.

See Also
Edit
Community content is available under
CC-BY-SA
unless otherwise noted.